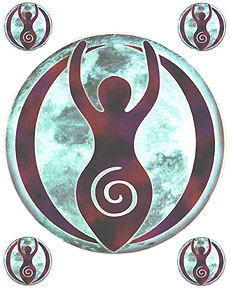 BOOKS
Infant and Childrens books: These books are for little ones. Some are geared for infants, others for 13 year olds. Each child is different so I didn't list the age of the books specifically, I broke them up into yonger and older children. I did also list themes prodominant in the books. The majority of these books can be purchased at local bookstores, If you can't find them there be sure to check amazon.com, ebay.com, or half.com (ebays version of amazon). For animal rights/vegetarian books see the bottom of 'healthy living for all'. For gothic books see 'raising a gothic child'.

The Peace Book - Todd Parr: Peace, care of the enviroment, respect of other cultures. (I believe every child should have this and the book below, highly reccomended.)
It's OK to be different - Todd Parr: Self-esteam, Self-respect, respect of others.
Pagan Kids' Activity Book - Amber K: games like mazes and puzzles
All I See is Part of Me - Chara Curtis: all things are connected, respect for the earth.
A Witch's Primer - Lorin Manderly: A wiccan workbook/activity book for children.
The Little Prince - Antoine de Saint-Exupéry: growing up, appreciating nature and what you have, the importance of imagination.
Spring Equinox - Ellen Jackson (there are 4 books in this series, Autumn equinox, Winter solstice, Summer solstice) these books feature stories and celebrations from religions around the world and speaks of pagan themes like classic celtic stories and the changing of the earth.
When the Moon is Full: A Lunar Year - Penny Pollock: poems for each full moon throught the year along with fun facts.
When the Wind Stops - Charlotte Zolotow: nothing ends, circle of life and nature, respect for the earth, science. (also see her other books like I like to be little.)
The Lady of Ten Thousand Names: Goddess Stories from Many Culture - Burleigh Muten: stories of goddesses from all different cultures.
Aisha's Moonlit Walk: Stories And Celebrations For The Pagan Year - Anika Stafford
Walking the World in Wonder: A Children's Herbal - Ellen Evert Hopman
The Serpent Slayer: and Other Stories of Strong Women - Katrin Tchana (tales of women heros from around the world)
The Witch Of Blackbird Pond - Elizabeth George Speare: Award winning historical fiction of colonnial life in 1687. A girl must leave her country to move in with her Puritain Aunt in Conn. and differences of culture make her very unliked. She befriends a quaker widow whom is considered a witch and the community begins accusing her of the same.
The Winter Child - Wendy Froud: On the eve of the Winter Solstice faeries are having their annual celebration to welcome winter. But something is a miss..where is winter? Why are there still flowers on the trees? Where has lady winter gone? This is almost a chapeter book and a great fantasy which speaks beautifully of the season changes and portarys each season with the growing changing goddess (though in faerie forms.)
The Lorax - Dr. Seuss: respect nature, protect it.
Panda Bear, Panda Bear, What Do You See? - Bill Martin Jr and Eric Carle: Protection and respect of endangered animals.
Help Me good Series - Joy Berry: A large selection of books for children explaining good morals and respect. Geared for children to help them understand why their parents make rules, how their actions effect others, and alternatives to try. (some titles include 'a childrens book about being selfish', 'a childrens book about disobeying'.)
The Shortest Day: Celebrating the Winter Solstice - Wendy Pfeffer:
The Great Kapok Tree: A Tale of the Amazon Rain Forest - Lynne Cherry
Color Me a Rhyme: Nature Poems for Young People - Jane Yolen.
Teeth are not for bitting and Hands are not for hitting - Elizabeth Verdick. Alternative choices to control yourself and how your actions make others feel (for toddlers)
I love you little one - Nancy Tafuri: Love, the connection of nature and the earth and how animals live.
The Adventures of Abdi, Yakov and the Seven Thieves, Lotsa de Casha, and Mr. Peabody's Apples - Madonna: 4 Traditional stories from around the world with a modern twist. Each teaches a different moral and positive introduction to other religions.
Walk When the Moon Is Full - Francis Hamerstrom: 13 full moon walks of a child growing up.
Serendipity - Stephen Cosgrove: Being yourself, Protect the earths waters and keeping the water clean.
Keepers of the Earth: Native American Stories and Environmental Activities for Children (Keepers of the Earth) - Michael J. Caduto, Joseph Bruchac. True Native American tales with enviromental themes, discusion, and activities for each. Also the thier other book keepers of the animals.
Where Are You Going? To See My Friend! -
Kazuo Iwamura and Eric Carle:
Friendship between all things, different languages (its partly in japanese)
The Little Bitty Snake - Chisana Chisana Hebi: Rodieck: Respect of small creatures, different languages (in english/japanese)
The Gnats of Knotty Pine - Bill Peet: Even if you are small you can make a difference. Working together.
The Wolves in the Walls - Neil Gaiman: Stand up to your fears.
Princess Smartypants - Babette Cole: Book for girls, strong women, choosing to live a life style you like no matter what others think
Nature's Green Umbrella - Gail Gibbons
The Magical Garden of Claude Monet - Laurence Anholt. Take a story book trip through monets paintings and help children learn to appreciate art. *Also see the authors other books in this series including Picasso and the Girl With a Ponytail, Leonardo and the Flying Boy, Camille and the Sunflowers and more!
Giving Thanks: A Native American Good Morning Message - Jake Swamp. A simple book for younger children about Why Native Americans celebrate thanks giving.No pilgrams or half truths mentioned. Respect of nature and the circle of life this book talks about the harvest and why we should all give thanks to the world around us.
Children's Book of Yoga: Games & Exercises Mimic Plants & Animals & Objects -Thia Luby
The gift of Nothing - Patrick McDonnell. This book is simple and cute with a great moral of how friendship is more important, that its the thought that counts, but it is done in a delightful way. This book is very funny and a gentle reminder to kids of all ages to appreciate what they have.
The Story of Ferdinand - Munro Leaf: be peaceful, stand up for yourself
Sadako and the Thousand Paper Cranes - by Eleanor Coerr. A book about the ravages and dangers of war and respect of other cultures. Sadako develops Lukenia generations after the atom bomb was dropped and tries to fold 1000 cranes to regane her health.
Bees dance and whales sing: the mysteries of animal communication. - Margery Facklam
The Lotus Seed - Sherry Garland: a vitnamese tale about a seed and what it means to one woman.
Water Wishes (Magic Elements 1) - Mallory Loehr: First in a series of 4 elemental themed storybooks about 2 kids encounters with magic and the earth
Children of the Forest - Elsa Beskow: The beauty of nature, be ressponsible (see her other books too)
Grandfather twilight - Barbara Helen Berger
Books for Teenagers/young adults: These books are great to help older children understand in deeper meaning the reason and history behind wicca as well as help them do things alone or help them in their life and encourage responsiblity and respect of others, to help them understand and connect with themselves and the earth, learn tollerance, ect. Also there are a few also for teens who are begining to show interest in pagan religions.
The World's Religions: Our Great Wisdom Traditions - Huston Smith: covers basic points of the top religions around the world and gives points on beliefes and what is good in each religion. a great way to teach respect of other religions.
Wisdom Tales from Around the World: Fifty Gems - Heather Forest
The Circle Within - Dianne Sylvan: a great book to get more intouch with yourself, the god and goddess, and the religion as a whole. great for self discovery.
Stick Up for Yourself : Every Kid's Guide to Personal Power & Positive Self-Esteem - Gershen Kaufman, Pamela Espeland
Supermarket Sorceress : Spells, Charms, & Enchantments That You Can Make From Supermarket Ingredients - Lexa Rosean
When Elephants Weep: The Emotional Lives of Animals - Jeffrey Moussaieff Masson
Parallel Myths - J.F. Bierlein: Myths from all over the world incuding japanese, french, African, Indian, and native american,and discussion of similarities.
Be True to Yourself: A Daily Guide for Teenage Girls - Amanda Ford
The Kids' Guide to Working Out Conflicts: How to Keep Cool, Stay Safe, and Get Along - Naomi Drew
Elements Of Ritual - Deborah Lipp: breaks down rituals and explains how they work and how to make your own.
Animal Farm and 1984 - George Orwell: popular required reading with important messages about responsability, respect, and being yourself.
Brave New World - Aldous Huxley: popular required reading with important messages about responsibility, respect, and being yourself.
The Mists of Avalon - Marion Zimmer Bradley. The story of king Aurthur and Camelot, as old religion faces new. This is much better written as it is told by the 3 ladies point of view, and doesn't put anyof them in a negative light.
Mythology: The Illustrated Anthology of World Myth - C. Scott Littleton
Wild Girls : The path of the young Goddess - Patricia Monaghan: Emowering stories of Goddesses in mythology around the world.
Principles of Wicca - Vivianne Crowley
Spirit Of The Witch - Raven Grimassi: The spiritual side of witchcraft, connecting with the earth, yourself, and understanding others
Childhood's End - Arthur C. Clarke
An ABC of Witchcraft Past and Present - Doreen Valiente: In depth history of witch craft, though a bit british a good resource for all to read at least once.
The Second Circle: Tools for the Advancing Pagan - Venecia Rauls
The Wicca Pack: Weaving Magic into Your Life - Sally Morningstar: a set with wiccan divinatory cards.
Pop! Goes The Witch: The Disinformation Guide to 21st Century Witchcraft -Fiona Horne
BOOKS FOR PARENTS
some ideas on books that may be helpful I reccomend to read reviews/scan a book before buying as I havn't read all of these.
Pagan/Wiccan Books
Raising Witches: Teaching the Wiccan Faith to Children - Ashleen O'Gaea (also see her other book "The Family Wicca Book")
Circle Round: Raising Children in Goddess Traditions - Starhawk, Diane Baker, Anne Hill
Wiccacraft for Families - Margie McArthur
Celebrating the Great Mother: A Handbook of Earth-Honoring Activities for Parents and Children - Cait Johnson, Maura D. Shaw
Talking to Fireflies, Shrinking the Moon: Nature Activities for All Ages - Edward Duensing
Pagan Parenting - Kristin Madden
The Wise Child: A Spiritual Guide to Nurturing Your Child's Intuition - Sonia Choquette
Baby Buddhas: A Guide for Teaching Meditation to Children - Lisa Desmond
Buddhism for Mothers: A Calm Approach to Caring for Yourself and Your Children - Sarah Napthali
Starbright--Meditations for Children - Maureen Garth
Homeschooling Books
Pagan Homeschooling - Kristin Madden
Homeschooling Handbook - Mary Griffith.
The Unschooling Handbook: How to Use the Whole World As Your Child's Classroom
- Mary Griffith
Home Learning Year by Year: How to Design a Homeschool Curriculum from Preschool Through High School - Rebecca Rupp
Family Matters: Why Homeschooling Makes Sense - David Guterson
Homeschooling Our Children Unschooling Ourselves - Alison McKee
Homeschooling High School: Planning Ahead for College Admission - Jeanne Gowen Dennis
Parenting, Breastfeeding, and Sleep
From First Kicks to First Steps: Nurturing Your Baby's development from Pregnancy through the First Year of Life - Dr. Alan Greene.
The Natural Child: Parenting from the Heart - Jan Hunt
The Womanly Art of Breastfeeding: Seventh Revised Edition - La Leche League International
The Baby Book: Everything You Need to Know About Your Baby from Birth to Age Two - James & William Sears
Above All, Be Kind: Raising A Humane Child in Challenging TImes - Zoe Weil
Raising Children Who Think for Themselves - Elisa Medhus
Natural Family Living: The Mothering Magazine Guide to Parenting - Peggy O'Mara
Nighttime Parenting: How to Get Your Baby and Child to Sleep (La Leche League International Book) William Sears, MD
Raising Cain: Protecting the Emotional Life of Boys - Dan Kindlon, Michael Thompson. No intellectual one up manship over which gender's got it worse. Instead great insight into the fact that boys are different, some of the differences and why, and how you can deal with that.
Peaceful Parents, Peaceful Kids: Practical Ways to Create a Calm and Happy Home - Naomi Drew
Siblings Without Rivalry: How to Help Your Children Live Together So You Can Live Too - Adele Faber, Elaine Mazlish
The Fussy Baby Book : Parenting Your High-Need Child From Birth to Age Five - Martha Sears, William Sears
The No-Cry Sleep Solution: Gentle Ways to Help Your Baby Sleep Through the Night - Elizabeth Pantley
The Breastfeeding Book : Everything You Need to Know About Nursing Your Child from Birth Through Weaning - Martha Sears RN
Emotionally Intelligent Parenting : How to Raise a Self-Disciplined, Responsible, Socially Skilled Child - Daniel Goleman
Attachment Parenting: Instinctive Care for Your Baby and Young Child - Katie Allison
The Discipline Book: How to Have a Better-Behaved Child From Birth to Age Ten - Martha Sears, William Sear
Three in a Bed : The Benefits of Sharing Your Bed With Your Baby - Deborah Jackson
Good Nights: The Happy Parents' Guide to the Family Bed (And a Peaceful Night's Sleep) - Jay Gordon, Maria Goodavage
Transforming the Difficult Child - Howard Glasser
Birthing Options
The Thinking Woman's Guide to a Better Birth - Henci Goer, Rhonda Wheeler
Birthing from Within: An Extra-Ordinary Guide to Childbirth Preparation - Pam England
Gentle Birth Choices: A Guide to Making Informed Decisions about Birthing Centers, Birth Attendants, Water Birth, Home Birth, and Hospital Birth - R.N., Barbara Harper
Choosing Waterbirth: Reclaiming the Sacred Power of Birth
- Lakshmi Bertram
The Waterbirth Handbook: The Gentle Art of Waterbirthing - Roger Lichy
Homebirth - Sheila Kitzinger
Physical And Emotional Health:
Words That Hurt, Words That Heal : How to Choose Words Wisely and Well - Joseph Telushki
Mother Massage: A Handbook for Relieving the Discomforts of Pregnancy - Elaine Stillerman
After the Baby's Birth: A Woman's Way to Wellness; A Complete Guide for Postpartum Women - Robin Lim
The Food Revolution: How Your Diet Can Help Save Your Life and Our World - John Robbins
Amusing Ourselves to Death: Public Discourse in the Age of Show Business - Neil Postman
Vaccinations: A Thoughtful Parent's Guide: How to Make Safe, Sensible Decisions about the Risks, Benefits, and Alternatives - Aviva Jill Romm
The Vaccine Guide: Risks and Benefits for Children and Adults - Randall Neustaedter
Vaccines: Are They Really Safe and Effective - Neil Z. Miller
MULTI-MEDIA
DVD's and Movies
Lets be logical, there are not very many wiccan/Pagan specific themed movies or tv shows out there. And the few that are are over effected by Hollywood and really don't portray a very accurate image of a pagans so these fall more along the lines of fun but educational media that exemplifies good morals and positive choices which may fall under the 'an it harm none' rede.

Infants:
Baby Einstein: whether exploring art, science, nature, shapes, or colors this video series is great. From nursery rhymes in other languages, Real life nature and animal video footage, Van Gogh paintings, dvd features to play the show in french or spanish, black/white/red geographic patterns, monet, and all the classical music you could want this series has it all! Great as a together time learning tool.

Baby So smart: just fun lively videos for infants, red/white/balack to classical music for the youngest infants to basic words/shapes/and colors for older infants.

Bilingual Baby:(Small fry video) this is a great series if you are looking for billingual videos in MANY languages, not just the common spanish and french, it uses the immersion method which is easy for young kids to learn.
My Baby Can Talk: Sign language for babies
Toddlers/young children:
Little Einsteins: visit landmarks, different countries, and dive into classical music while expanding your little ones vocabulary with 5 multi-ethnic children and their rocket. Interacitive

Blues Clues: animal friends, healthy food, arts and crafts, exploring nature, and learning all in a fun setting with nothing rude or violent! Interacitive.

Dora the Explorer: spanish and english as you try to help dora on her quests. counting, colors etc. Interacitive and physical fun.

Your baby can read: help your child recognize the basic concepts in understanding the pattern of written language. Designed by a DR. this series uses real children/objects and fun songs while helping children recognize concepts such as lowercase/capital/begining/ending letters.

National Geographic Geokids: with real life photography, fun puppets, and sing alongs kids explore nature and animals from why birds fly, to metamorphysis, to nocternal.
Older children and Teenagers:
these age levels vary from family material to mature audiences as this is such a wide age range and children are mature for different subjects at differeent times. Please look into any item before you buy it.

National geographics really wild animals: A fun way to watch and learn about animals in nature.

Science and Nature videos: these can be a variety of videos, from nature, national geographic, or the discovery channel. They release videos on every subject from tigers, to pyramids, dianosours, to space exploration and everything in between.

Nausicaa, valley of the wind: great movie about the enviroment. A young girl who finds harmony with nature when the world has been poisined from polution and war. Also see..
Princess Mononke: another great movie about the enviroment, differences in cultures and greed.

Dark Crystal: a young fairy must save his land and restore the balance of the universe. In his journy he discovers how good can come from bad and vise vera.
The Secret of Roan Inish: seeped in irish legends, a young girl moves to Ireland to discover legends and a long lost child.
Network: an older movie but with a lot of big names, about how network tv is only concerned about ratings and what one news reporter does about it.
Moving cultural movies: some of these contain mature themes but are beautiful movies which give us a glimps into different parts of the world and different times. Some are factual and others are fiction with historical factual information. Schindler's List, Hotel Rwanda, Braveheart, Swing Kids, Dances With Wolves, The Red Violin, The Joy Luck Club, The Buena Vista Social Club, Blood Diamonds.
Bell, Book, and Candle: This movie, from the 50's follows more along the lines of bewitched (ie not very realistic of todays witch) but portrays them in a positive light as a witch learns she can't use spells to gain love. A fun movie.
In Search of History: Salem Witch Trials. From The Hisotry Channel this is a documentary on... the Salem Witch trails.
Silent Running: (the original version from the 70's is the best version IMO, from the special effects man from 2001 a space oddessy) The Earths last plant life is being preserved on spaceships far away from polluted Earth, but when the people on the ship are ordered to destroy it what will they do?


Music / CD's
All of these are avaliable at pretty much any music store or places that sell cd's such as best buy.

Mozart, Beethoven, Vivaldi, Bach, and more: classic classicals. Classical is some of the most complicated music in the world, composed by some of the smartest and sometimes oddest people. Great for different moods, it can be slow and relaxing, to fast and uplifting.


Putumayo World Music:
From new orleans blues to itallian folk, to african beat this company has the largest series of traditional world music anywhere.
Ellipsis arts
Lullabies from all over the world (africa, america, cuba, celtic and more) to yoga and meditation music, this company has a wide varriety of wonderful choices.
A Playful Mind
:
Classical music geared for little ears. Award Winning.
Computer Programs / Games
Most of these are not pagan themed but are fun and nice for pagan homeschoolers

Jumpstart
:
Learning programs from preschool up. From animals in nature to math, reading, science, and more. Gently encourages learning and improving skills through fun learning games, cool crafts, and other rewards. Personalizes the learning processes for each child based on their strengths and how they think.
Return of The incredible machine, Contraptions:
Sierra games
,
levers, pullys, and more, this game teaches kids about physics and science in this puzzle-solving erector set.
Edmark/Riverdeep: from zap: experiment with light, sound and electricity with this three learning environments, the Laser Lab, Sound Wave Studio and Electro Loft. to one of their other programs, reader rabbit, to math, they make so many different learning games, even for special needs children.

Blues clues games: reading, art, math, science, and more explore blues clues games that encourage creativity, learning, and improving skills through fun learning games, cool crafts, and other rewards.

Rosetta Stone: A little pricey but the best foregin language program out there. Will teach anyone to know a language well enough to speak it, interprit it, read it, and write it.
BrainPOP videos: Fun Videos in a kids format on ever subject from science, math, history, and more. Yearly subcripton avalible for families and schools. (though a lot of these are free to view on national geographic kids site- linked above in the websites section. Choose the NG explorer magazine when on the site.)
Celestia: a FREE space simulator that lets you explore the universe in 3 dimensions. Unlike most planetarium software, Celestia doesn't confine you to the surface of the Earth. You can travel throughout the solar system, to any of over 100,000 stars and beyond.
An it harm none, do what ye will.